Having a website is not enough if you want your business to succeed. A structured digital marketing strategy across multiple channels is the best way to set your website up for success. Search engines continue to be the first place users go when making a purchasing decision. As a website owner, it is important to rank as high as possible to drive organic traffic back to your site. Search Engine Optimization (SEO) is the process of targeting your website for specific keywords to rank highly in search engines like Google, Yahoo and Bing. And just recently, the number of searches on mobile overtook the number of searches made on desktop devices, so making sure your website is optimized for mobile is important as well.
As an SEO consultant in San Diego, I have the opportunity to work in one of the most beautiful cities in the world. Fortunately, online marketing allows you to optimize websites across the globe. Whether you are a small business looking to start up your online presence or a global brand looking for opportunities to scale your SEO optimization efforts, we will be able to provide strategic SEO consulting that will benefit your website.
Our SEO Services
SEO Marketing Strategies That are Data Driven and Actionable
Choosing the right SEO marketing consultant can be a difficult decision, especially when you're running a small business by yourself or with a small team. You're swamped with work, you have to allocate a budget and resources, and you have to find the best SEO consultant to help you meet your goals. And, how do you find the right SEO person?
With over 10 years of experience in the industry, we've had the opportunity to work with brands of all sizes, speaking SEO to clients with various levels of knowledge (ability to highlight wins to an executive while getting into technical details with a development team). We treat all clients with the same level of respect and attention and really look out for what's best for the customer. Learn more about our SEO Services.
What SEO Services Do You Provide?
On-page SEO is the process of optimizing different elements within your website, things that you have complete control over. We ensure that your website is relevant for your target keywords and when customers are searching on Google and other search engines, your website ranks at the top to ensure the highest click through rate and conversions.
Off-page SEO refers to how other websites talk about your company. As a brand, you need to be active on social media platforms like Facebook, Twitter, Instagram, etc. to be able to engage with your customers. Producing content on a consistent basis will drive more traffic to your site. Designing larger, interesting content pieces will get more websites to link to you, increasing your domain authority and ability to rank for your target keywords.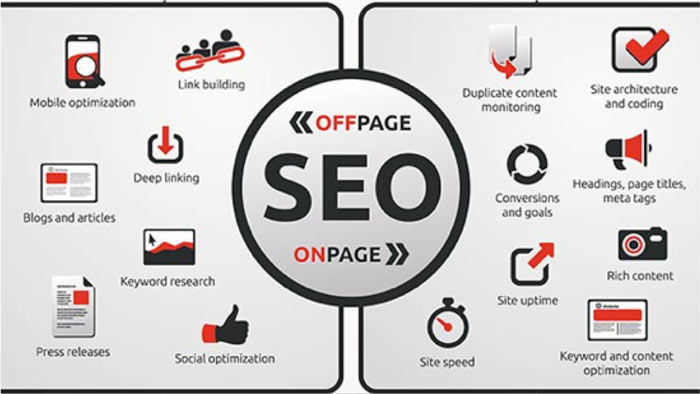 What is Your SEO Process?
SEO is like trying to solve a complex equation: there are many different methods (strategies) you can use, but can still produce similar outcomes (results).
Google has over 200 different ranking factors to determine a website's ranking within the search results pages. Not all SEO strategies are guaranteed to work, however, following best practices will always be the best route to take when optimizing a website.
Learn more about the SEO Process and how we can incorporate SEO into your digital marketing efforts.